The packraft, canoeing in the mountains!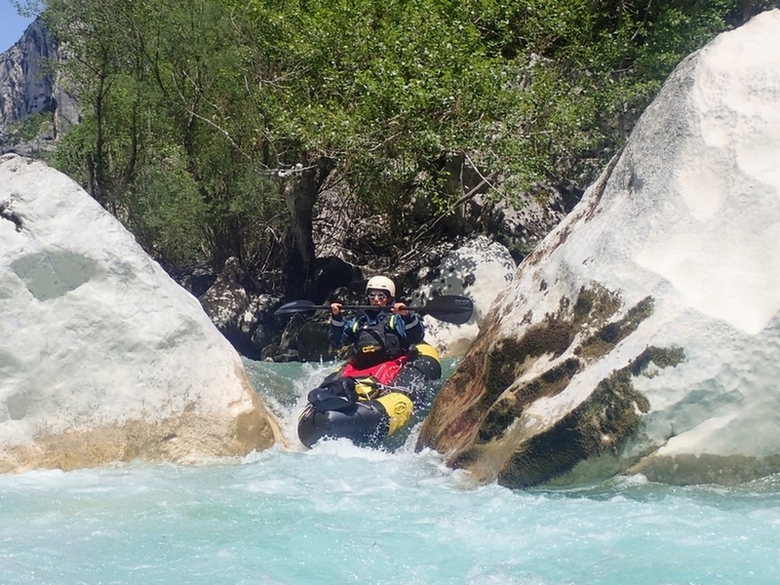 A descent for thrill-seekers!
An experience that gives you the thrill of a whitewater kayaker! New activity at the Arcs this summer!
The packraftoffers an amazing stability and speed on which you can quickly find your bearings. For those who love adventure sports, this is the activity to try! 
Packraft explorer for whom? For river enthusiasts who already have a good grounding in rafting and/or kayak-canoeing. This course is very sporty and requires the ability to navigate independently. The guide will of course always adapt to the level of the group but a sporty profile is necessary.
Description of the rafting trip:
After 8 km, where we have found our bearings both in terms of navigation and crew, we pass the stop for the discovery trip. And we glide towards the first rapids of Aime, starting with the "ham slicer" which will be our aperitif!
The guide flashes a mysterious smile and we set off on our adventure...
Departures: 08h30 & 13h30
All technical equipment is provided.
Supervision by professional guides with a state diploma.
Shuttles to the activity included.
Hot and cold drinks are offered at the start.
Swimwear.
Towel.
Glasses clips (if glasses are mandatory).
A bag for your personal belongings. 
Your enthusiasm!
From

15 years old

.
Know how to swim 25m.
No medical contraindications.
Meeting point: at the base (215, Rue de l'Arbonne- 73700 Bourg-Saint-Maurice).